第6回アジア顎関節学会
The 6th Asian Academy congress for TMJ
Thank you for your cooperation and contribution for The 6th Asian Academic congress for TMJ. It has been ended successfully with so many participants which is unprecedented number of them ever. Once again, we sincerely appreciate your cooperation to the success of the meeting.
Welcome
6th Asian Academic Congress for Temporomandibular Joint
Welcoming message for colleagues from over-sea countries and Japan
KenIchiro Murakami and Toshirou Kondoh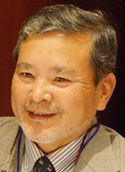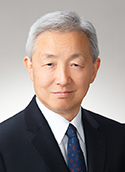 Dear Friends and colleagues!
This is our privilege to welcome you to the 6th Asian Academic Congress for Temporomandibular Joint chaired by Dr.KenIchiro Murakami in Tokyo on July 27 and 28, 2019. The congress is held in conjunction with the 32nd General Meeting of Japanese Society for Temporomandibular Joint by Dr.Toshirou Kondoh.
The Asian TMJ Congress has been held biannually since 2008, hosted by four countries; Japan, Korea, China, and Philippines.
In the past decade, the progress of the science and art of TMJ and relating Disorders/Diseases has been remarkably achieved. In this opportunity, let's discuss and exchange the cutting edge of information forefront TMJ Diagnosis and Treatment.
We have sophisticated guest speakers, Dr.Franklin Dolwick from USA, and Dr.Dorrit Nitzan from Israel. Their tremendous contributions to TMJ disc preservation surgery and TMJ arthrocentesis as the less invasive surgical interventions are of great mile stones after 1990s. We sincerely wish to audit regarding the philosophy and spirits beyond them for the development and renewal of TMJ Science and Art toward to new era. In the Asian and Japanese Joint seminar, Dr. Bu Kyu Lee from Korea and Dr.Tetsu Takahashi will discuss the alloplastic and autogeneous TMJ replacement. Update your knowledge and skill for TMJ end-diseases such as bony ankyloses, and advanced staged osteoarthrosis, rheumatoid arthritis and so on.
DC-TMD is EBM based world standard diagnostic system for common TMD aiming biological appropriate treatment. Symposium on DC-TMD update and the prospective in Asian country is held to seeking the common basis of diagnosis and treatment for common TMD. Speakers from Japan, Korea, China, Philippines, and Indonesia will discuss and work in this matter.
As usually, scientific abstract oral and poster sessions are held during the meeting in English.
We encourage all clinicians and researchers to attend the meeting from Asia, Pan-Pacific, and all over the world such as "West meet East" and "North meet South"
The mid-summer in current Japan is so cruel, while the traditional summer festival such as a fireworks and wind-bells with night street booths for kids and family must be charming for the guest from over-sea countries.
Hope to learn and enjoy together in Tokyo-Edo metropolitan culture center in Japan.
Sincerely yours,
KenIchiro Murakami, DDS,Ph.D
Chair of 6th Asian Congress for TMJ
Toshirou Kondo, DDS, Ph.D
President of 32nd Annual Meeting of Japanese Society for Temporomandibular Joint.
Date, Venue and Access
6th Asian Academic Congress for Temporomandibular Joint (in conjunction with 32nd annual meeting of Japanese Society for Temporomandibular joint)
Date:July 27 and 28, 2019.
Venu:Hitotsubashi (Kodo) Hall, National Sciences Center Building,
Chiyoda-ku Hitotsubashi 2-1-2, Tokyo. Postal code 101-8439
Phone: 03-4212-3900
Traffic access 1:(From Narita airport, take JR train by Narita Express to Tokyo station, then Taxi)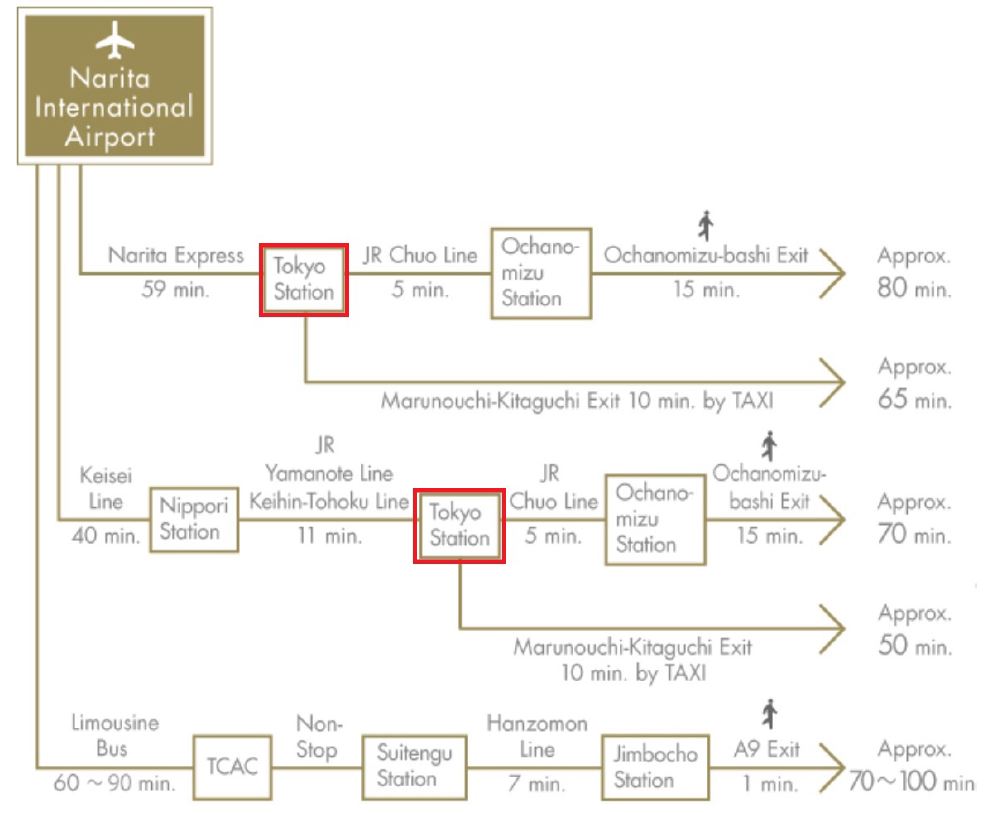 Traffic access 2: (From Haneda International airport, take Monorail to Hamamatshucho station , change to JR to Tokyo station. Simply you can take taxi to the venue, but avoid in traffic busy time in the morning/late afternoon)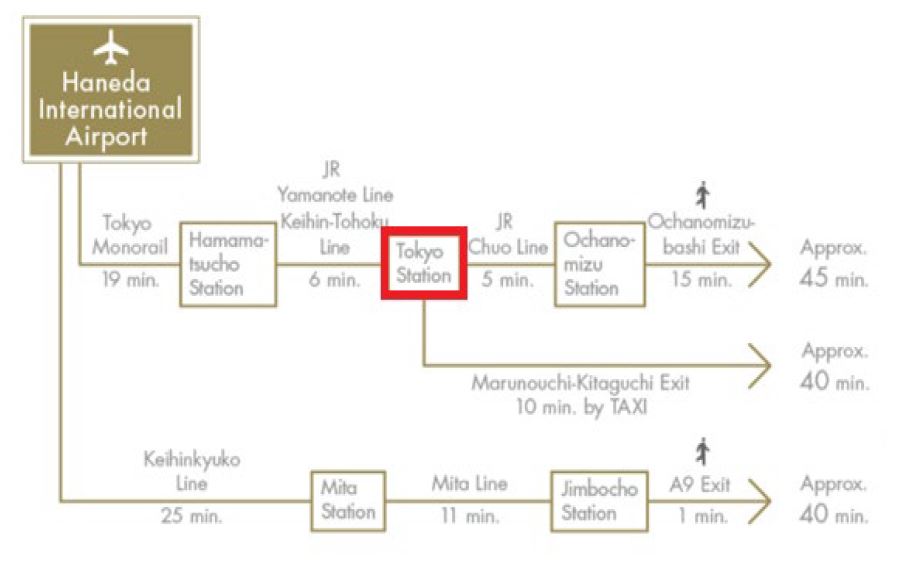 Access from JR Tokyo station:By Marunouchi-Kitaguchi (Palace side) Exit, take a taxi. (For Hitsubashi Kodo Hall arriving around 10 min/\1000). One can use local JR, subway, and so on, but complicated.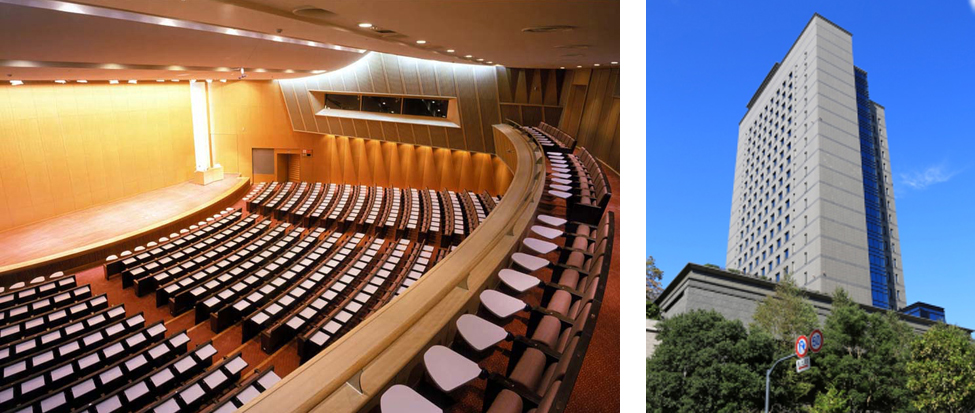 (Hitotsubashi Kodo Hall)
Program (in English)
July 27(Sat), 2019
SCIENTIFIC ABSTRACT SESSION, ORAL PRESENTATION (ROOM C)
Session 1: 9:30-10:18
(Chair:Liezl Manaloto CEBALLOS(Philippines)and KenIchiro MURAKAMI(Japan)
C1. Evaluation for 3D CT images for Masticatory muscle tendon-aponeurosis hyperplasia.
Hirokazu ITO, et al. Japan
C2. Morphological analysis of the lateral pterygoid muscle inserting into the medial surface of the condylar process. Sasin SRITARA, et al. Japan
C3. Intramuscular injection of botulinum neurotoxin into the lateral pterygoid muscle for the treatment of recurrent temporomandibular joint dislocation with and without neurogenic muscular hyperactivity Kazuya YOSHIDA. Japan
C4. Botulinum toxin injections in complex treatment of myofascial pain syndrome of the masticatory muscles. Irina ARSENOVA, Russia
Session 2: 10:18-11:06
(Chair:Jong Jin KWON(Korea)and Kiyoshi KOYANO(Japan)
C5. Relationship between arthroscopic findings of synovitis and levels of the pro-inflammatory mediators in synovial lavage fluid from patients with mandibular condyle fractures. Shinnosuke NOGAMI, et al. Japan
C6. HMGB1 plays a role in early stage of TMJ OA. Wei FANG,et al. China
C7. Effect of targeted inhibition of aggrecanases for mandibular condylar cartilage degradation in the STR/Ort spontaneous mouse model of temporomandibular joint osteoarthritis. Kazuhiro OOI, et al. Japan
C8. MiR-15b is a key regulator of proliferation and apoptosis of chondrocytes from patients with condylar hyperplasia by targeting IGF1, IGF1R and BCL2. Ke JIN, et al. China
Session 3: 11:06-11:54
(Chair:Ke JIN(China)and Nobumi OGI(Japan)
C9. Magnetic resonance imaging evaluation of condylar remodeling after arthroscopic disc repositioning. K Ssah MANOJ, et al. China
C10. Biomechanical evaluation of Chinese customized three dimensionally printed total temporomandibular joint prostheses: A finite element analysis. Xuzhuo CHEN, et al. China
C11. An innovative total temporomandibular joint prosthesis with customized design and 3D printing additive fabrication a prospective clinical study. Shan yong ZHANG, et al. China
C12. Clinical application of Chinese customized three-dimensionally printed total temporomandibular joint prostheses. Shan yong ZHANG, et al. China
July 27(Sat), 2019
Hall A 13:00-14:00
SPECIAL LECTURE
(32th annual meeting of Japanese Society for TMJ)
Chairmen:Toshirou Kondoh(Nihon University School of Dentistry at Matsudo)and KenIchiro MURAKAMI(Ako City Hospital)
| | |
| --- | --- |
| | 「45 years of TMJ Surgery 1976-2019, Current Philosophy and Observations」 |
Franklin M Dolwick (Professor and Chairman, Department of Oral and Maxillofacial Surgery, University of Florida College of Dentistry, Gainesville, FL, USA)
July 27(Sat), 2019
Hall A 14:00-16:00
SYMPOSIUM「DC-TMD: Update and Prospective in Asian Region」
Moderators:Koichi WAJIMA(Keio University)and Hirofumi YATANI (Osaka University)
KEY NOTE SPEECH:
DC/TMD as standardized diagnostic criteria for the most common temporomandibular disorders(TMD)
Norihiro TSUKIYAMA(Section of Dental Education, Faculty of Dental Science, Kyushu University, Japan)
(Speakers)
Clinical utility and implementation of RDC and DC/TMD for diagnosis and management of orofacial pain in Korea
Jin-Woo Chung (Department of Oral Medicine and Diagnosis School of Dentistry, Seoul National University, Korea)
DC/TMD and TMD classification in China
Xing Long (Department of Oral and Maxillofacial Surgery, School of Stomatology, Wuhan University, China)
TMD Diagnostic protocol in the Philippines
Sheila O. Cobcobo (Past President of Philippine Association of Functional Jaw Orthopedics and TMJ, Philippines)
Indonesian DC/TMD: Its development and its use in Indonesian epidemiology studies
Carolina Damayanti Marpaung (Department of Prosthodontics, Trisakti University, Indonesia)
July 27(Sat), 2019
Room B 16:00-17:30
Japan-Asian joint seminar
「Reconstructive TMJ Surgery, Recursion and Progression; Autogenous and/or Alloplastic 」
Moderators:Kenichi KURITA(Aichi-Gakuin University)and Tetsuya Yoda(Tokyo Medical and Dental University)
Conventional Temporomandibular Joint Reconstruction: Indications and Limitations
Tetsu TAKAHASHI(Department of Oral and Maxillofacial Surgery, Tohoku University)
Indications and Know-how of Effective Alloplastic Total Temporomandibular Joint Replacement
Bu-Kyu Lee(Department of Oral and Maxillofacial Surgery, Asan Medical College of Medicine, Ulsan University, Korea)
Modified Surgical Techniques for Stock Type TMJ-TJR and Outcome
Shanyong Zhang(Department of Oral Surgery, College of Stomatology, Shanghai Jiao Tong University School of Medicine, Shanghai, China)
July 27(Sat), 2019
Room D: POSTER SESSION
Discussion time: 17:45-18:30
See Poster list for Asian Congress for TMJ
25 Posters (and Japanese Poster session)
July 28(Sun), 2019
Room B 10:30-11:30
GUEST LECTURE
Chairmen:KenIchiro MURAKAMI(Ako City Hospital)and Ritsuo TAKAGI (Niigata University
| | |
| --- | --- |
| | 「Arthrocentesis, a 30 years review: Rationale, and Prospective」 |
Dorrit W Nitzan (Professor, Department of Oral and Maxillofacial Surgery, Hadassah School of Dental Medicine, Israel)
Registration
We recommend for participant from over-sea country to pay the registration fee via home page by credit card (¥12,000)
Spouse; free, but need for social program.
(Payment system has already been closed. Please pay cash in Japanese Yen at onsite registration.)
For presenter
Notification of Abstract Acceptance
Oral presentation
-Presentation time:10 minutes presentation and 2 minutes Q & A session.
-Presenters are requested to go through procedures at the PC reception located in the lobby on the second floor at least 30 minutes prior to your session in order to register and test presentation data.
-Please bring your presentation data in USB flash memory. If you bring your own PC to play a movie or sound, or wish to use Macintosh, please consult with the staff.
-PC reception: Saturday, July 27 9:00-18:30
        Sunday, July 28 9:00-16:00
-Conflict of Interest disclosure:Please include statements for Conflict of Interest in your presentation slide.
Poster presentation
-Presentation time:A 45-minute free discussion.
1) Please hang your poster on the panel that matches your abstract number.
Date and time to hang your poster:Saturday, July 27 9:00-10:00
2) Poster session: July 27 Saturday mainly for Asian colleagues, 28 Sunday for Japanese colleagues.
Poster exhibition time:   Saturday, July 27 10:00-18:30
             Sunday, July 28 9:00-16:00
Poster presentation time: Saturday, July 27 17:45-18:30
3) Time to remove poster:Sunday, July 28 16:00-17:00
(remaining posters will be removed by the secretariat)
4) Size of poster: A panel board of 210 cm high and 90cm wide will be provided.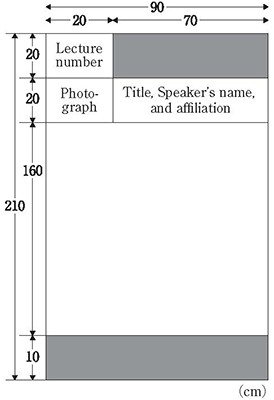 The secretariat will prepare and stick your abstract number on the top left corner of the panel(20cm high and 20cm wide).
*Thumbtacks to hang your poster will be provided by the secretariat
Title:20cm high and 90cm wide. Please attach your face photo(20cm×20cm)and title, your name and affiliation(20cm high and 70cm wide).
Poster content:160cm high and 90cm wide. Your poster data should be within the size specified.
*We recommend you have the poster within 180cm of total length, as the bottom part of the board will be close to the floor and will be hard to read.
Conflict of Interest disclosure:
Please include statements for Conflict of Interest in the bottom of your poster.
Excellent Poster Award:
The Excellent Poster Award will be given to the excellent poster presenters. A ribbon will be placed on the award winning posters around 14:00 on Sunday, July 28. Award winners are requested to go to the registration desk by 16:00. A ceremony will be held after the closing ceremony, from 17:10 at Hall A on Sunday, July 28.
Accommodations
See the list of Hotels
Kindly reserve room by your-self via hotel web-site
The figures in parentheses are approximate time from the venue.
Social program
Get together party with members
Venue:2nd floor, Josui_Kaikan (next building of meeting hall)
Time:July 27, Suturdday, 19:00
Fee (for participant, spouse); \6000
(to be payed via home page)
Secretariat of the meeting
Sun-planet Medical Convention Co.
6F Sumitomoseisen koishikawa Bldg., 3-5-10 Otuka, Bunkyo-ku, Tokyo 112-0012, Japan
(At Ms.Ayaka Miyakawa , Secretariat of The 32nd Annual Meeting of the Japanese Society for the Temporomandibular Joint)
E-mail: jstmj32@sunpla-mcv.com